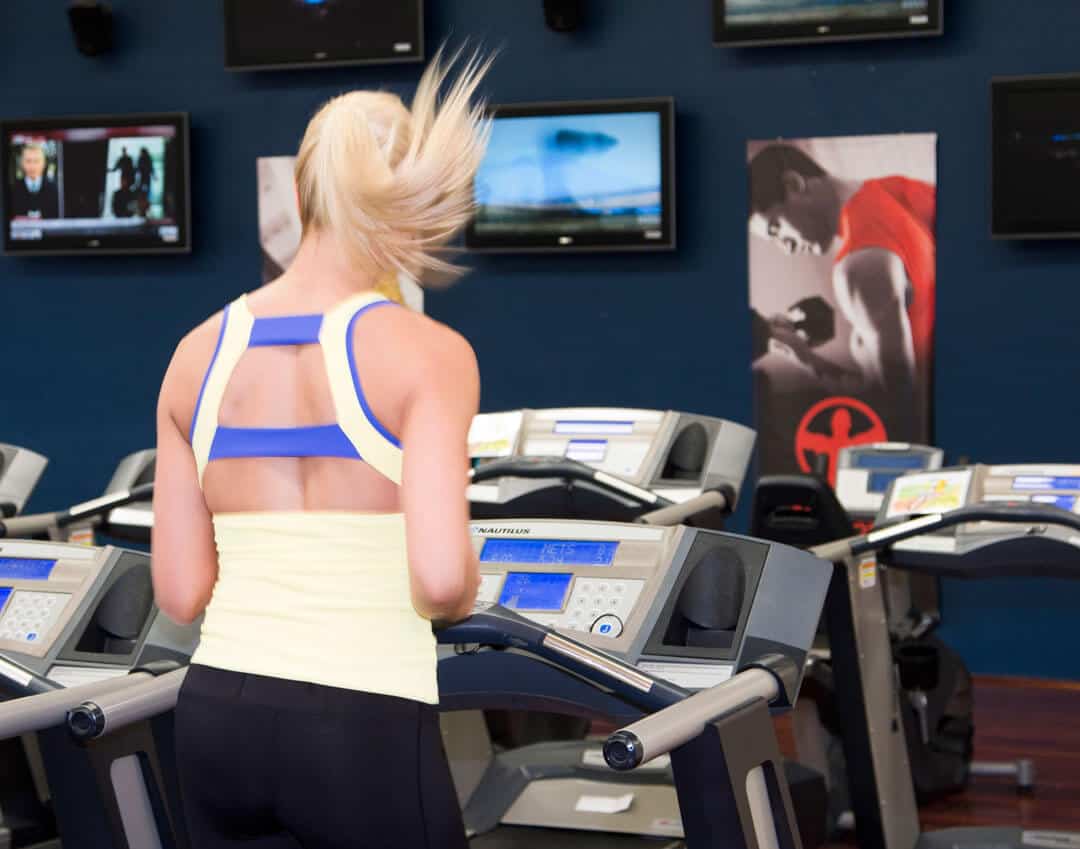 Running for strength athletes
Running makes most strength athletes cringe.
Perhaps you're the same, and hate anything that even looks like cardio. Often, once the benefits of strength training are experienced, running and cardio training are easily forgotten, and relegated to the scrap heap of, things we shouldn't do.
But; Do you really want to be the person who lives through, "that awkward moment when you're wearing Nikes, and you can't do it"?
The reality is, the right kind of cardio including running when combined with a proper strength program, can help improve performance and results.
It's often like there are two separate worlds, that can't co-exist. "Running world" and "Lifting world". I've observed that people living exclusively in either "world" have sub-optimal health and performance.
Runners who don't lift, are falling apart, even if they're still awesome runners. And lifters who don't run, have little to no endurance and are puffed out even climbing a set of stairs.
The right mix of both training modalities in a smartly constructed program will help either athlete be the healthiest version of themselves, while producing optimum performances for their chosen sport.
And if you're simply training for appearance, the combination of running with strength training will produce the type of body that most desire. Most are not chasing the results achieved at either end of the spectrum of running and lifting, which can be like skelator, or the Hulk.
We just don't want that. So find the right balance and enjoy your training, and the results that come with it.
Obviously, you can run indoors on a tread mill or outside in the fresh air. I find mixing it up works best, so I run indoors when it's cold or rainy outside, but really enjoy outdoor runs when the weather is good.
Running outdoors also has a different feel and impact on the body to tread mill running, so it's good to not let the body settle into a rhythm just doing one. Repetitively training the same way can produce less results over time as the body becomes accustomed to it, and taken to extreme can lead to over training more easily than a varied program.
So mix it up, and enjoy yourself as well.
Spend a few minutes to read this post, and I think you'll see how giving some running and cardio a try as part of your strength program is a good idea.
Integrating running and cardio into your weight training routine;
The list of reasons to integrate cardio into your training program is endless, and so are the advantages of running.
Smart bodybuilders and weight training enthusiasts have been long using running to supplement their workout routine so that they can burn fat more effectively.
The main aim is to increase the daily caloric expenditure, and improve general conditioning.
Endurance type running is typically defined as the 'common jogging'. Your heart rate is in the 50% - 75% of the Max HR, your breathing rate is high but stable, leg muscle contractions are not that intense, range of motion of your muscles is limited as well.
This type of running is aerobic and it is a great tool for burning fat.
Such endurance type running conditions your heart and increases cell capacity to absorb oxygen (VO2 Max). One problem with endurance running is that some muscle loss along with fat loss is inevitable (Yes, the body has funny ways to get on your nerves!).
Muscle loss becomes a threat especially when you hit a stage where Glycogen reserves are nearing depletion. This is the primary reason why bodybuilders who want to pack on mass try to avoid endurance runs.
In my opinion, avoiding endurance running altogether is not a good idea. It's all about how you 'manage' your workout schedule. One long distance endurance run in the range of an hour isn't going to impact your body in a negative way, given your nutrition is impeccable and your workout schedule is flawless.
Let's not forget that you're pounding iron rest of the week which means that you'll be packing on muscle mass rest of the week.
I'm not recommending marathon or half marathon runs (or God forbid, Ultra marathons)! Endurance running is a perfect example of Low Intensity Training (LIT) for Cardiovascular strength.
---
No one can say, 'You must not run faster than this, or jump higher than that.' The human spirit is indomitable.
---
Sir Roger Bannister
​/ Champion Runner
How one should incorporate LIT Cardio Training in their weight training schedule?
LIT Cardio which lasts about 30 minutes can be performed on weight training days.
A good idea is to separate your weight training session and your LIT cardio by 6 hours. I personally recommend doing Cardio in the morning while hitting the weights in the evening.
Same day LIT Cardio shouldn't exceed the 30 minute mark and make sure you make up for the increased physical exertion via proper nutrition and rest. Same day LIT Cardio can be pursued as a means of rapidly losing weight while staying in control of your muscle mass.
If back to back LIT and weight training session seem unavoidable, try to do your LIT session after your weight training session. You don't want to feel listless once you hit the weights.
Your energy level should be optimal to lift as heavy as you can whereas a low intensity run can be performed even after a hard training session. But again, the best practice is to split them by an interval of 6 hours or you can go for LIT on alternate days if you don't aim for rapid fat loss.
Anaerobic running;
The second form of running is Anaerobic running.
Classic example of Anaerobic running is the 100 m sprint. Physical performance of such order demands a high volume of Oxygen which can't be supplied.
Anaerobic running can be considered as a form of 'Strength training' as the same energy and muscular system comes into play.
Therefore Anaerobic running is another great alternative to LIT.
Anaerobic running and the term HIIT (High Intensity Interval Training) are often used interchangeably. A classic example of HIIT would be 'Performing a 100 m sprint, walking balk to the start line and repeating 10 times (100m X 10 sets)'.
This is known as High Intensity Interval training. The quick burst of energy associated with the 100 m sprint is High Intensity, followed by a rest interval.
This is quite similar to what you do in a particular weight training session (Rest followed by each set).
The great thing about HIIT is that it is Anaerobic and keeps your body in the anabolic state.
The risk of losing muscle mass is much less than that of LIT. For this reason, this form of running is favored by most fitness trainers whose aim is to build muscle mass.
Your HIIT can be different. You may go with 200m sprinting followed by 300 m walk or you may go with the 100m spring followed by a rest interval. The choice is yours really. Here are a few examples of HIIT that I usually recommend.
(100m Sprint + 400m Jog) x 10
(100m Sprint + 100m Walk-back) x 15
(200m Sprint + 300m Jog) x 10
There's no rocket science to designing your very own interval program.
The only thing you need to remember is that the high intensity interval needs to take your heart rate above 75% of your HR Max and the low intensity interval needs to be such that your heart rate falls back to at least 50% of your Max HR.
Usually, a good idea is to wear a device that can monitor your heart rate and time interval. A heart rate monitor along with a stop watch can do the magic.
You can even do it without these gadgets, all you need is a track (Or a well calibrated pathway) and good pair of running shoes.
The time you spend in a HIIT should be somewhat similar to the time you spend in a normal strength workout. Ideally, a 30 - 45minute HIIT workout (Including warm-up, cool-down and rest intervals) will leave you exhausted.
To sum it up, a few workout schedules have been illustrated following;
Lean Mass Gain
| | | |
| --- | --- | --- |
| | | Weight Training (60 - 75 minutes) |
| | | Weight Training (60 - 75 minutes) |
| | | Weight Training (60 - 75 minutes) |
| | | |
| | | Weight Training (60 - 75 minutes) |
| | | Weight Training (60 - 75 minutes) |
| | | |
Rapid Fat Loss
| | | |
| --- | --- | --- |
| | | Weight Training (60 - 75 minutes) |
| | | Weight Training (60 - 75 minutes) |
| | | Weight Training (60 - 75 minutes) |
| | HIIT lasting 20 - 45 minutes | |
| | | Weight Training (60 - 75 minutes) |
| | | Weight Training (60 - 75 minutes) |
| | | |
1 muscle group a week split
| | |
| --- | --- |
| | Weight Training (60 - 75 minutes) |
| | LIT for (45 - 60) minutes |
| | Weight Training (60 - 75 minutes) |
| | LIT for (45 - 60) minutes |
| | Weight Training (60 - 75 minutes) |
| | |
| | |
Working with cardio alternatives
Once again, nothing is set in stone. There are many alterations you can try with your running even.
It is not necessary to stick with HIIT or LIT, be creative, go with variation and variety.
Here are a few recommendations that can ramp-up your running session:
Wear a weight vest to increase intensity of your running. Ankle weights can do the magic as well but vests help improve better weight distribution.
Go with hill running. Running on an incline is the hardest thing you can do to yourself! You may know this already if you're into hiking.
Trail running is another adventurous alternative. If you live in an area with many natural trails and pathways taking you into the wilderness, go with trail running.
Hiking! Yes, it may not sound like something a 'body sculptor' would do but hiking is a great mix of Anaerobic and aerobic cardio training. 30 - 45 minutes of a tough hiking can actually equate to 60 - 90 minutes of jogging. Just make sure you don't book a flight to the Himalayas as that would be a clear misinterpretation of what I'm trying to say!
If you're not a big fan of running (Or its various alternatives) you can always go with alternatives.
I won't go into much details as it is beyond the scope of this post, but you can always go with alternatives such as cycling or even stair walking.
As long as your heart rate is up and the activity itself is a challenge, you're golden. But make sure that it is something that doesn't mess up your weight training schedule.
I wouldn't recommend swimming a day after you've done a killer Chest & Back routine. The same goes for other alternatives such as Yoga.
Try to do your cardio on days where you don't have a leg workout. The 'chicken-leg syndrome' is all too common in a lot of fitness trainers so it is always a good idea to pay attention to your legs as much as your upper body.
Create good working splits between your weight training and cardio days and try to make an intelligent routine.
Remember to always build progressive overload into your program so you will continually achieve gains. Need some tips on how this works, read this post.
Don't go overboard with your creativity. You don't want to design a routine that looks like superman's work chart! Keep it simple, functional and realistic.
If you're so used to casting scornful glances at the girls on the tread mill, that you're still not convinced that this can work for you, but you think there might be something to it, I suggest you read Alex Viada's post on complete human performance, for his experience getting the training mix right. Read it here.
Running and lifting weights are two of my favourite things in the world to do. I'm really happy that I found and enjoy both, as it keeps my body more balanced and healthy, and I believe it stops training becoming a boring chore. There's enough of them in all our lives already!
So I hope that if you haven't been including running in your training, I've helped inspire you to give it a go, and;
Last but not the least, stick to it!
---
We all have dreams. In order to make dreams come into reality, it takes an awful lot of determination, dedication, self-discipline and effort.
---
Jessie Owens
​/ Champion Runner
Summary
Article Name
Running for Strength Athletes
Description
Running should be mandatory for all strength athletes, and all runners should lift as well. A balanced approach to training with a smart approach to programming will result in the healthiest body that produces optimal performance for the athlete.
Author
Publisher Name
Publisher Logo