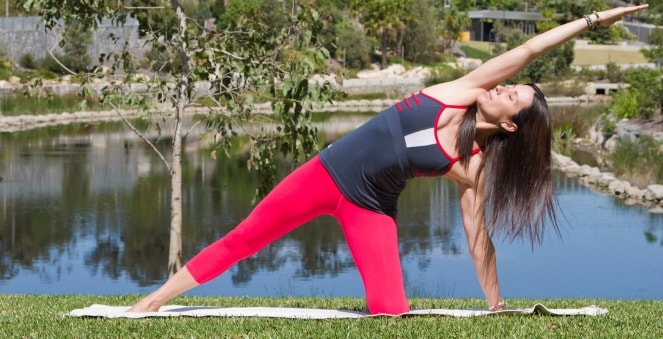 Yoga Poses, how to do Parighasana
Parighasana, or gate pose is a great beginners level side bend, providing a great stretch through the side muscles and opening up the breathing, to be truly three dimensional.
This asana is part of the yoga practice which was made popular by K. Pattabhi Jois during the 20th Century, called Ashtanga vinyasa yoga. often promoted now as classical Indian yoga.
Within this practice for each asana there are three important focuses of attention. Breathing system (pranayama), posture (asana), and looking place (dristhi), which importantly cover three levels of purification; the body, nervous system and the mind.
We should be mindful and focus on these as we complete our yoga practice, to obtain the most benefits.
Parigha literally means, the bar that shuts the gate, and your body resembles that bar when doing this pose.
Coordinating your breathing while doing Parighasana will help to cleanse your system and relax your mind, calming nerves and helping with digestion.
Watch below as Kerri McCubben provides instruction on how to do Parighasana;
Some benefits of Parighasana (gate pose)
Stimulates the abdominal organs and lungs
Stretches the muscles of the torso, especially side muslces
Repeated practice opens up the chest and shoulders
Helps with breathing, as it stretches the muscles between your ribs (intercostal muscles)
Can help alleviate respiratory conditions such as asthma, allergies or colds
Stretches adductor, hamstring and calf muscles
Helps calm the mind, relieve stress and nerves
Steps
Kneel on your mat with legs curled under
Reach your right hand out to the side and take your weight on it
Lift your pelvis up
Extend your left leg out straight, placing your foot flat on the mat
Tilt your pelvis forward drawing your lower belly in
Extend your left arm up and bring it over so that you really feel the stretch through your rib muscles and down the side of your body
Hold the pose for five long deep breaths
Release, come down from the pose, relax and change to the other side
Tips
Keep your stretched arm against your ear, and pull your shoulder blades together
Look up at the sky, keeping your neck long
Remember to breath deeply while you hold the pose
Practice focusing the mind and feel the calming affect of the pose
Be careful when practicing Parighasana to keep your chest perpendicular with the floor and your torso straight. Don't allow your body to twist and bend forward rather than to the side.
For those who have had previous bad knee injuries or chronic knee problems, it's better to avoid this pose altogether. You can do a similar side stretch while sitting on a chair instead, to achieve many of the same benefits.
If you've mastered Parighasana, and are looking for more asana's to practice, then we've got 50 beginner yoga poses here for you to try.
Enjoy! And remember, time spent working on yourself is always time well spent.
Summary
Article Name
Yoga Poses; How to do Parighasana
Description
Watch the video demonstrating how to do Parighasana or gate pose, a deep side bend which stretches the rib muscles and opens up the breathing.
Author
Publisher Name
Publisher Logo