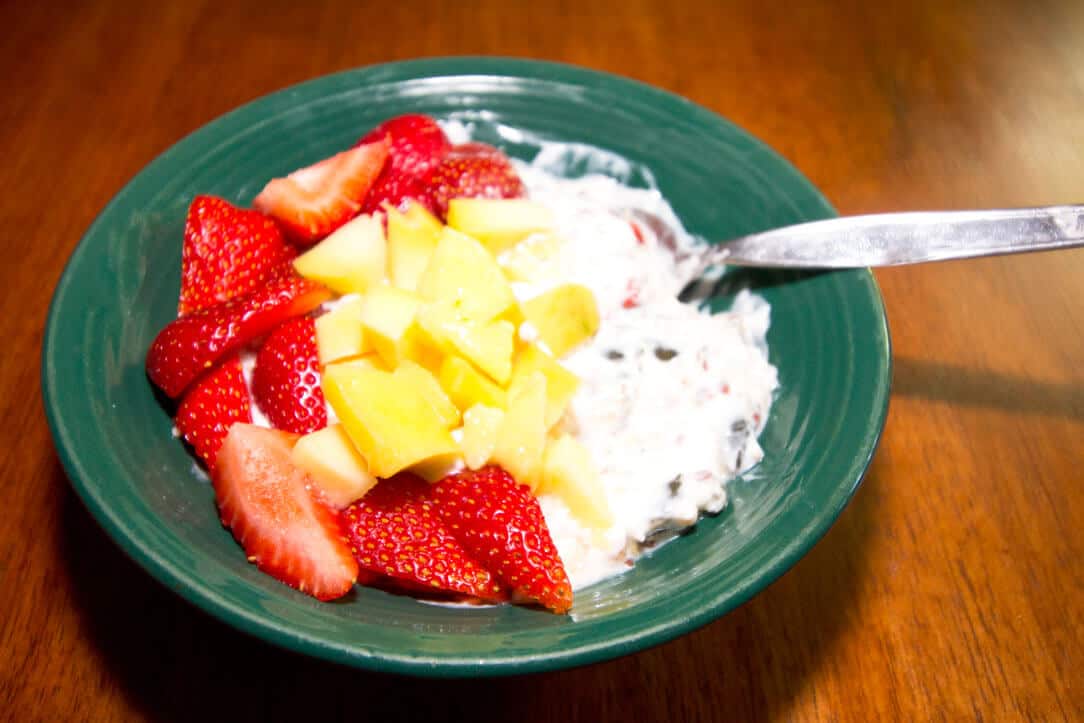 Breakfast desserts recipe for a healthy start


Breakfast desserts might sound strange, but it's actually a great idea!
Why start the day being boring?
In some countries within Europe including Bavaria, Hungary, Poland, Vienna and Austria, they traditionally even have a second breakfast. So if they can create a tradition like that around breakfast, why can't we start our own?
I vote that we all start creating breakfast desserts, to get our days underway with a tasty treat.
Anyhow, fire up your taste buds with this super tasty and simple recipe, which is also great for your digestive health and keeps you feeling full for longer with a hit of extra protein.
Breakfast desserts ingredients;
Making your breakfast desserts
Soak the 1/2 cup of grains in 1/2 cup of water kept in the fridge overnight, to activate the grains so that they are easy for your stomach to digest quickly.
Prepare a serve each of sliced mango and strawberries. I include a fairly generous serve of both, because I just love sweet fruits, and they provide a real burst of flavour combined with the vanilla yogurt.
Place a serve of high protein yogurt in a bowl
Add the healthy grains. They will have absorbed the 1/2 cup of water and have swelled up a bit.
mix the yogurt and grains together till the grains are well blended into the yogurt.
add the sliced fresh fruit on top, and your healthy breakfasts desserts recipe is complete and ready to enjoy.
How quick and easy is that!
While I've called this a breakfast recipe, it's actually really handy to make this up and keep some in a container to eat as a filling snack throughout the day as well.
It's a tasty treat, that due to the high protein yogurt, will keep you feeling satisfied, with good energy, for longer.
If you are constantly craving sweets in your diet, it's a good indicator about your food personality. if you'd like to find out more about your own food personality, try taking the simple test below;
Summary
Article Name
Description
Healthy breakfast desserts to get your day started with a boost of energy and a fresh spurt for your taste buds. This super easy to make recipe is filling and tasty, so give it a try today.
Author
Publisher Name
Publisher Logo