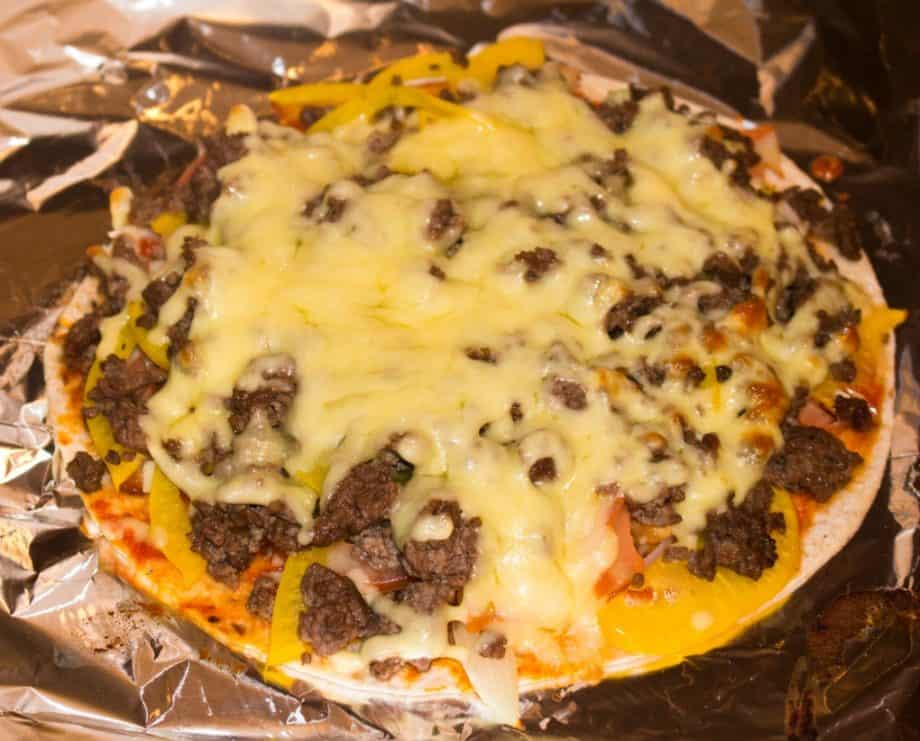 Every night when I arrive at home after a long day at work I just want to have a healthy meal for dinner, without too many calories. Although at the end of the week I am starting to get tired and just want to prepare an easy meal that doesn't take a lot of time and effort..
I'm guessing you probably feel the same some days.
It is why I want to share with you this healthy pizza recipe, as I know at the end of the week our families want to enjoy a healthy pizza without worrying about calories.
Healthy Pizza Recipe
Pizza ingredients;
1 Wholemeal Lebanese Bread
½ Cup of Mozarella Full Cream Cheese
1 Tomato cut in small pieces
½ Cup of onion cut in small pieces
½ Cup of Capsicum cut is small pieces
1 Cup of Turkey, Chicken or Beef mince already cooked
1 Spoon of Bolognese Sauce.
After we have of the ingredients for our healthy pizza we are ready to start cooking.
Firstly, I cook the mincemeat in the pan with a spoon of coconut oil until it is browned. You can let the meat cook while you are cutting up the veggies, just to minimize the preparation time.
At the same time the meat starts cooking, turn the oven on to 150 Centigrade to pre-heat the oven.
Then, we spread the Bolognese sauce over the wholemeal bread, and then spread the tomatoes, onion and capsicum. Add the cooked mincemeat, and finally sprinkle the mozzarella cheese on top.
Your healthy pizza is ready to put into the oven to cook for around 10 minutes, until the cheese is melted and slightly browned. Keep an eye on it while cooking, to make sure it's not overdone.
Your healthy Pizza meal is done, remove, cut into pieces and serve. Bon Appetite.
If you want to stay with the healthy pizza base, but experiment with different toppings to add some variety, that's really easy. Just chop up and add some of your favourite foods as a topping ingredient. For some extra inspiration with this, take a look at these suggestions nine gourmet pizza toppings
I like this recipe without much sauce, but if you like more a more saucy pizza, then don't use the spoon of bolognese sauce, and try this pizza sauce recipe instead. It's really tasty, and you can make up a large container of sauce beforehand, to keep ready for when you're cooking pizza, so it is still really easy to throw together a quick but healthy meal.
That's my favourite because it's so easy to prepare, healthy and tasty, so it ticks all my boxes. If you try this and would like to try some other different pizza recipes, then take a look at some of the following recipes that I've enjoyed as well;
Try These Pizza Recipes
Gluten Free Mini Pizza; This is a really good option for you if, like me, you're gluten intolerant, and need to control how much of it you eat.
Add all your own choice of toppings, to keep it really healthy or cheat a little and add some extra treats that you can burn off later.
Grain free gluten free pizza; Completely guiltless pizza is hard to imagine, but this is surely it!
Made entirely from vegetables, including a cauliflower base, and just 600 calories in a whole pizza, this tasty recipe is truly guilt free.
Gluten free quinoa pizza treat; Yet another gluten free option, easy on the stomach, but packed full of great tasting goodness.
Quinoa is one of my favourite super foods, and the recipe for this savory snack is just so quick and easy.
For more recipes using the high protein quinoa super food, try these three recipes.
Gluten free chicken tandoori; The chicken breast provides a really nice protein boost to this recipe. Add as much as you like, for a really filling meal.
You can see how easy it is to get creative with healthy pizza recipes, just mixing and matching any of your favourite healthy foods on a healthy base. Make your pizza as big and filling, or just a small snack depending on what you're feeling like.
You really can enjoy your food, and stay in great shape as well. It's not as hard as it's sometimes made out to be. Just make some smart choices!
Stay healthy, love your life, and bon apatite.