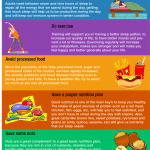 Easy Steps To A Healthier Life;
Some of these tips to a healthier life might seem really basic to you, but have a think about how many you're actually doing consistently.  If you get yourself into a routine of following just these ten tips, then you'll be feeling healthier in 21 days.
Why 21 days?  Well, although you are likely to start feeling the benefits well before then, I believe in the theory that it takes 21 days to form a new habit.  So, once you have been following these tips for 21 days, you will have developed healthy new habits that form a great base to build on, and get even better.
I'm not trying to overload you with information here. If you're already following a training and nutrition program then you are already tuned into what we're achieving here.  If you're just looking to start improving your health, to move towards a healthier life, then you might need some help with some of these tips, like, what's a good nutrition plan?  What sort of exercise should I be doing?
Well, don't worry, just start thinking through what this can mean for you, what you'd like to do that will maintain your interest and enthusiasm, and I'll be posting some more guidance about nutrition and exercise planning to help you out soon.
Always remember, life rewards action, so take action every day, to become a healthier you!