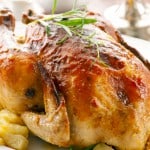 To help you plan a months worth of healthy meals, all with simple preparation, and ease of cooking in mind, I've created this list of thirty-one easy clean eating recipes to get you started. With these easy healthy recipes, you can mix the meals around and always have something new and delicious to try on every day of the month.
These are some of my favourite healthy recipes, and all from great healthy living and cooking sites where you'll also be sure to find more recipes that make your mouth water. Click the title link of each recipe, to get full details on ingredients and preparation. I think you'll find yourself bookmarking these sites in your favourites, to return for more dinner ideas, like I have!
Since I first published this post, I've received a lot of questions about clean eating, and so I've taken the most commonly asked questions and answered them at the end of this post. Go to find your ​common questions answered​​​
Want Some Free Active Wear?
We're giving away $150 worth in our latest contest
PERFORMANCE ACTIVE WEAR
Free Shipping On All Orders
Preservatives, chemicals, additives, all included in food that you find in packets, tins, boxes and other forms of pre-packaging, making your food toxic. Make it easier on yourself and stay away from pre-packaged food, by preparing lovely fresh clean eating recipes.  That way the efforts you put into training and staying in shape will show results faster, you'll have more energy, and improve or even get rid of allergy problems that so many people are experiencing more regularly, many of which are diet induced.
I understand, we've all got busy lives, and it sometimes seems much easier to be eating pre-packaged meals, rather than preparing fresh food.  The reality is that it's not really much easier at all.  Once you've mastered preparation of easy healthy cooking, you'll be able to prepare tasty meals that are packed full of nutrients to help you perform better throughout the day, assist with weight loss or maintenance, keep you feeling much better generally, and it all won't take much more time or effort.
Whether its healthy dinner recipes or healthy lunch recipes as long as you are being inspired to eat healthy meals, you are on the correct path to a happier healthier life.
Enjoy these healthy meals!
Clean Eating Recipes
This delicious and simple roast meal is a traditional favourite, and I love that in this recipe it's being done using the slow cooker, which is a great time saver when you're trying to fit healthy eating into an already busy life.
Just put the ingredients together into the slow cooker, switch it on, get on with life, and a few hours later it's cooked to perfection.  Apart from it's convenience, I find that preparing meals with the slow cooker, really helps the food soak up the herbs and spices you've added, and makes for a delicious feast.
An easy to make refreshing juice, that's packed full of vitamins to get your day started right.  I love ginger added to pretty much anything, and a good chunk of fresh ginger added into this gives it a great spicy taste, with added immune boosting properties.
A glass of this juice will really fill you up, and help keep any cravings for sweets at bay.
Again with this recipe we're using one of my absolute favourite cooking appliances, the slow cooker!  This brings your cooking time down to pretty much nil, while still delivering a delicious tasty, and super healthy meal.
There's some great ingredients in this soup, that I just love, including sweet potato which is healthy and a great addition to so many meals, black beans which are a great source of protein and chili which helps with digestion and adds a great bite to the dish.
Personally when I'm making this recipe I also add in a few tea spoons of vegeta stock, which is super healthy and helps to thicken the soup a bit more.
We're still using the slow cooker here in this recipe, which is great, because it's a huge time saver, and I did call this " easy clean eating recipes"  When you cook meat in the slow cooker, it cooks the meat in it's juices, leaving it really nice and tender, so cooking chicken breast this way won't dry the chicken out like frying or roasting can.  The honey added to this recipe makes the chicken meat really sweet tasting, but it's still all natural and healthy.  Again, I like to add a few tea spoons of vegeta stock to this recipe, sprinkled over the chicken meat for some extra goodness.
With chili, jalapenos and beans in the ingredients of this easy recipe, I just knew that I'd love it.  I've called it divine, because that's what it is.  With just the right amount of spice, next to no fat, and loads of protein, what's not to love!  And, it's prepared in the slow cooker meaning that yet again, you can leave it cook, take off to spend your day however you please, and still have a tasty dinner ready to serve when you're home.
Quinoa is widely hailed as a super food, as it's packed full of so much goodness.  I love cooking with quinoa as it's so tasty and completely guilt free. As far as clean eating recipes go, this one is simple and versatile.  You can prepare this salad as a side dish, or to take with you as something extra to eat as a light meal.
This is a great alternative to a traditional lasagna. It's really low in carbs and fats, with a big serve of protein, to keep you feeling full and satisfied for longer.  Despite being low in fats, compared to a traditional lasagna, it's still surprisingly creamy and super tasty. You can swap the turkey breast for chicken, but that will lower the protein a bit, and it's a nice way to mix in some turkey breast meat into your diet, so I prepare this recipe as written.
We're back using the slow cooker!  I love a good nutritious soup, and this recipe is a really easy one.  I like to add some fresh chopped ginger to this recipe for some extra taste.  I think ginger is great in just about anything.  If it's summer time and you don't want a hot meal, no problem, this soup is delicious cold too.
When you are looking for a quick snack, just don't feel like a heavy meal, or need something easy to share, this super tasty nachos dish is perfect.
This is a really filling soup, that's got many of my favorite ingredients in it.  Sweet potato, Ginger,  coconut milk, garlic, Worcestershire sauce, and almonds.  This recipe has enough ingredients listed to make a soup for six to eight people, so you can cut back a bit if you are making it for less, or simply keep the leftovers, which make a great meal either cold, or re-heated.  So, you've got healthy dinner and lunch the following day already taken care of.
Ok, this recipe is a lovely treat that you can have when you are craving something sweet.  There's no need to run for a cake loaded with sugar, when you can prepare tasty pancakes like these, that use raw honey to add some extra sweetness.  Just don't cover them with a sugar loaded jams and you'll have taken care of your sweet tooth without affecting your healthy diet.
If you are looking for some great comfort food, then this tasty shepherds pie is just the thing.  using sweet potato means we're using one of my favorite vegetables, and you can really add any of your favorite spices into this pie to add some personal flavour to it.
We're using the great slow cooker again with this recipe, so you know that you'll get a great healthy meal, prepared quickly and easily, with very little time actually spent in the cooking.  Just prepare, leave for about eight hours, and when you get home from the gym, there's your lovely roast dinner waiting for you.  It can't get much better than that.
I like to add some fresh chopped ginger into the slow cooker along with the meat.  Just make small slices in the meat and push some chopped ginger in, and leave to cook.  I think this adds a great flavor to the meat, and I still also use the bay leaves as per the recipe.
Clean eating recipes can be fun too, and you don't have to give up on having decadent treats, just to be following your "clean eating diet".  This recipe has been created for a really easy treat to whip up for one.  you can obviously make it for more if you like, but if you're really just feeling like giving yourself a little indulgent treat, then I recommend trying this one!
We're using cocoa again in this recipe.  It's one of my favorite ingredients when I'm craving something sweet for my taste buds.  This is really easy to make, with no cooking time required.  It's a really great recipe, because you can make a good batch of these, and keep them in the fridge for when you are feeling like a small treat.
You just can't go past a great steak when you're feeling really hungry and looking for a protein hit.  I love the marinade in this recipe, which adds such a great flavour to the meat.  I'd suggest that you add this marinade to whatever cut of steak you like the best, as some people would find a flank steak to be too tough.  I like a nice rump steak myself, and the flavours in this recipe will go well with any cut of steak.  Serve it with a salad, or your favourite vegetables, and you'll have a satisfying meal, with loads of good nutrients.
The fresh lime juice in this recipe, gives it a great taste and really contrasts with the red pepper.  Chicken is a great meat to eat cold as well, so if you're taking a healthy lunch to work, then a chicken breast prepared like this, along with some spicy rice, is a really healthy option that will give you a great serve of protein with carbs from the rice.  you could swap the rice for a salad if you want to, but if you're training hard, then some nice clean carbs like you'll get from a serve of rice, will help keep your energy levels up.
Fajita's are a popular Mexican dish, that have a great spicy taste.  It's easy to get a mix of protein with your vegetables in this dish.  I think it's a pretty easy meal to prepare, and not overly filling, so it's great clean  eating recipe if you're looking for something quick and light to eat.
This is a super simple sea food dish that is filling and tasty.  I like to cook the salmon for about 30 minutes, not 15 minutes as the recipe suggests, but you can adjust the cooking time to suite how well you like fish cooked through.  Also depending on what side dish of vegetables you might want to bake with this, you can add them before or after you've started the salmon cooking.
Sometimes I find myself just craving fish, and salmon is a great healthy choice to satisfy my craving with.  It's a great change from meat dishes for dinner, or lunch.
Clean eating recipes don't get much easier than sweet potato soup, and it's one of my favourites.  You can cook up a big pot of it and keep refrigerated to heat up for days.  It's perfect to put together with leftovers from other meals, and whether you do that or on it's own it's a really delicious dish whether served as an entree or main.
You can feel free to add whatever herbs and spices that are your favourites to this recipe.  Personally I add some ground chilies and some mixed spices.  I also don't use a blender to mash the sweet potato, just a regular old potato masher does the job just fine.
Back to using my favourite kitchen appliance, the slow cooker. Again this recipe is simple, and once you've prepared the ingredients and put them in the slow cooker, you can just turn it on, and get on with whatever else you've planned for the day, knowing that you will have a delicious healthy dinner ready to come home to.
I use chicken breast for this recipe myself, and I usually leave the slow cooker on auto for between six to eight hours.  It's probably well cooked before then, but that's just how I do it, because I prepare it in the morning, put it on to cook and then am out for most of the day.
You can add other herbs and spices to this dish as well, if you'd like to heat it up a bit, or add some different tastes.
A roasted fish dish makes a lovely dinner, and this recipe really adds some nice flavor to the cod. I like to add more vegetables into the roasting dish, usually some sweet potato, carrots, broccoli and even some sliced onions to add a different taste to the dish.
I really like this recipe as a change from meat dishes.  It's light and refreshing, but still satisfying and packed with good nutrients.  You can try adding your own spices to the fish too, just to change it up sometimes.
This recipe is a great option to cook in bulk and keep stored for your meals through a few days.  That way you'll have a good clean eating option prepared, and won't need to cheat.  The recipe is enough for four servings, but I usually add more ingredients and save for tasty lunches.
I really like the spicy cayenne pepper, and the paprika added to the chicken, which adds some heat and is great for digestion as well.  I always add the suggested honey in, for some sweetness mixed with the spices, but sometimes leave the mustard out.
This dish has a bit of an exotic sounding name, but it's still really simple to make.  It's a vegetarian dish, using eggs, so I'd usually try this for breakfast.  That's really for no other reason then that I like to have eggs to start the day.  I find that they fill you up to prepare you for the day ahead, and I like just the thought of all the vitamins that you're getting out of eggs first up in the day. But if you prefer, you can try this dish for lunch or dinner, perhaps with a side salad.
I really like the way that Tori has shared this recipe, giving the history behind it, and even a run down complete with images of the cool restaurant in Israel where's she's eaten the dish several times.  It's really nice to have a whole story behind the recipe, and I just love a historic tale.  It's a theme throughout her site, and I can get lost there for ages reading, so go check it out!
This recipe is really good as a light meal on it's own, or you can prepare it as a side to have with with meat for some extra protein.  I usually have this with a fried steak or chicken breast, and I can throw some extra spices onto the meat of chicken to make sure they're equally tasty.
It's really easy to make, and another great option to make some extra and store and use as a side dish with further meals.  If you maximise what you can do with each recipe, then you'll cut down your cooking time massively, making it easy to stick with your clean eating diet plan.
Try this great omelette recipe for a healthy breakfast.  Sometimes you can get tired of eating eggs the same way every morning, and mixing it up with a dish like this will keep your palette entertained, while still sticking to that clean eating recipes promise you made to yourself.
The chili add a bite to the eggs, and is great for your digestion.  I also like to add some turmeric, and if I'm feeling like something super spicy, a bit of cayenne pepper.   You can add the omelette on top of toast for some extra carbs to get your day started with plenty of energy.
Adding eggs to this salad has made it a winner for me, because it's so much more filling with the eggs, and they're also adding lots of vitamins to give you a boost. The bacon mixed through chicken breast pieces is just so yummy, and makes this dish really tasty to eat, even if you've taken it for lunch and eating it the day after.
I really like how Lindsay explains this recipe, and while she learned it in Peurto Rico, the plantain is one of my favourite foods from Colombia.  If you're not sure what it is, just think of a green banana that needs to be cooked before eating.  Fried plantain is actually great as a side to a steak as well, but mixing it here with a rice and bean dish gives it a real Latin American flavour, which is just great.
This recipe makes a meal which is good for keeping left overs as well, so make some extra and keep it for lunch the next day.
I really like the mix of protein carbs and healthy fats in this recipe, and being lactose intolerant, it's great that the recipe uses no diary.  The coconut milk which is used instead is a much nicer taste I think, and is much better for you.  This is such a delicious dish, and really proves that healthy clean eating can still be really scrumptious.
Again, this is a really simple dish to make, and tastes great cold as well, so you can make some extra and keep it for your lunch the following day.  Right there you're cutting down on food prep time, and eating healthy all day!
This is just one of many recipes that I love from Scott and Whitney.  They've got a huge library of healthy recipes on their site, and some great fitness tips, so you can get caught there for ages browsing.
I just love that Lisa's whole approach to cooking is to cut out processed food. Keeping your meals full of natural fresh whole foods is a great step towards maintaining a clean eating diet.
Super tasty and also easy to make extra and keep for future meals, this recipe takes a bit more preparation if you do want to make the tortillas fresh from whole corn yourself.  But even if you're not going to do this, it's still a clean healthy meal to include in your eating plan.
Shepherd's pie, well this is real comfort food, but it can still be really healthy.  I prepare all the vegetables fresh for this recipe, just chopped and diced, so you can include pretty much any vegetable that you like.  You can also substitute the ground beef mince with diced chunks of meat which make a really tasty chunky pie.
Happy cooking, healthy eating!
They say habits are formed by repeating things at least twenty-one consecutive times.  So now you've got thirty-one healthy clean eating recipes to help you form a good habit.
Eat healthy recipes every day, and your body will thank you!
Take your body to a new level, and try some of these workouts from a collection of twenty of the best leg workouts for women, by top trainers.
And while we've got food on the mind, you should make sure that you're optimising your diet for the correct amount of nutrients.  There's lots of healthy meal options in these clean eating recipes, and to make sure you're planning the right type of meals, check out;
I really enjoy trying different healthy recipes, so please feel free to let me know, in the comments below, of any others that are your favourites as well, I'd love to try them!
Common questions answered;
Cook and eat fresh naturally produced foods including all kinds of red and white meats, vegetables, fruits and whole grains. Avoid products with labels as much as possible as these usually contain chemical additives and cut sugar from your diet.
All kinds of potatoes are a healthy source of carbohydrates and can be included in a clean eating diet. Avoid fried potatoes as these will contain too much saturated fat, or any kind of processed potato such as packaged chips.
Yogurt can be a great inclusion in a clean eating diet, as it is within the fermented food group which can help increase good gut bacteria through the live and activated cultures in yogurt. Avoid artificial flavours, and try to choose a yogurt with added pro-biotics for gut health.
Hummus which is home made using natural clean ingredients is a great inclusion in a clean eating plan. It is fairly low in calories and is a healthy alternative to other highly processed dips, which can be included in clean eating recipes.
Eggs contain a good serve of protein. Include eggs in any easy clean eating recipe without a doubt. They are one of nature's super foods being one of the greatest natural sources of vitamins, including:
Vitamin A, D, E, K;
Vitamin B5;
Vitamin B6
Folate, Calcium and Zinc;
Vitamin B12;
Vitamin B2;
Selenium; and,
Phosphorus.
Find out more about this super food here
Butter which is naturally made, such as that from grass fed organic dairy milk is great to use when cooking clean eating recipes. Use sensibly in moderation.
Whole grains such as brown rice, barley, millet or quinoa are great to include in clean eating recipes. Avoid highly processed rice such as white rice which has been bleached to achieve this colour and so would not be considered a clean food.
Beans are a great source of plant based protein, and are a great inclusion in any clean eating diet. Some studies have shown that people, who regularly eat beans as is common in many South American diets, actually have longer life expectancy.
When they have been fried, as they will contain high levels of unhealthy trans-fats, or when they have been processed and come in packets as frozen chips or flavoured potato chips, which will be full of artificial flavours and preservatives.
It can be a good source of low fat non meat protein, but be really careful to read the ingredients contained in cottage cheese as they often contain chemicals to aid with consistency or thickening such as locust bean gum, xanthan gum, guar gum and carrageenan, along with chemicals to extend shelf life. That just isn't clean!
Potatoes are more nutrient dense than rice, being higher in fibre, containing about the same protein content, and are lower in fat and calories than white rice. Baked potatoes are a healthy option for clean dinner recipes as long as you don't add unhealthy toppings.
Fermented foods such as Greek yogurt do add activated live bacteria cultures to your gut. Pro-biotics have been recognised as being beneficial to a healthy gut, and Greek yogurt is an easy desert option to include in a healthy dinner recipe. So, you could say this helps to clean you out.
Eating clean is an important step towards a healthy body and weight loss. Calories in versus calorie expenditure is what impacts weight loss the most, but if you start by focusing on clean eating you will probably be naturally decreasing your daily caloric intake which will positively result in weight loss.
Nuts are a great clean eating snack. Try a small handful of natural almond nuts as they are high in protein which will help you to feel full. Avocado is also full of heathy fats, and is an easy healthy food to snack on.
The whole oats and grains in porridge are a great source of soluble fibre, which helps with gut health and digestion, making porridge a good option for a healthy breakfast.
Rice cakes make from brown rice which are low in calories, sugars and saturated fats are a good inclusion in a clean eating diet, and can be eaten with avocado for some healthy fats. Just be sure to check the labels before choosing rice cakes.
Unless there is a medical reason (prescribed by a medical doctor) for you to abstain from meat, there is no reason why you should not eat meat as part of a clean eating diet. Your body thrives on lean protein contained in meat, and any fatigue which you feel when abstaining from meat, is not from any imagined detoxification, but rather your body crying out for better nutrition.
An easy clean eating breakfast recipe high in protein could include, a large steak and eggs, with some cheese followed by a serve of Greek yogurt. That is a healthy option which will keep you feeling full, and help you to avoid snacking in between meals.
All forms of oatmeal are considered to be a processed food, but if you choose a natural variety that is free of flavouring and additives, it can be a healthy option in a clean eating diet plan.
Summary
Recipe Name
Published On
Preparation Time
Cook Time
Total Time
Average Rating
Based on 10 Review(s)